Sweater MCL
Other Colors: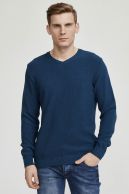 Shipping method:
Receive in store
Omniva PackStation - FREE
Courier - €3.50
Economic Shipping to Europe (7-14 days) EUR 2.99
Express Shipping to Europe (3-4 days) EUR 14.99
Standard Shipping to USA 9.99 EUR
Clothing which simply pops. MCL aren't afraid to risk with color and shape combinations to make a truly unique style for anyone. If you're looking for something different – look MCL.
| | |
| --- | --- |
| Product available only in web shop | 0 |
| MOLS X JEANS, Rīga, Krasta 46, Tel.: +371 25749139 | 1 |
| AKROPOLE ŠAUĻI X JEANS, Siauliai, Aido g. 8, Tel.:+370 63525400 | 0 |
| KURZEME X JEANS, Liepāja, Lielā 13, Tel.: +371 26519117 | 0 |
| ALFA X JEANS, Rīga, Brīvības 372, Tel.: +371 20159965 | 0 |
| RĪGA PLAZA X JEANS, Rīga, Mūkusalas 71, Tel.: +371 25749533 | 0 |
| VALLETA X JEANS, Valmiera, Rīgas 4, Tel.: +371 25749076 | 0 |
| GLOBUSS X JEANS, Cēsis, Raiņa 26/28, Tel.: +371 20144542 | 1 |
| DOMINA X JEANS, Rīga, Ieriķu 3, Tel.: +371 25749143 | 1 |
With this product also buy