Polo shirt WRANGLER
Other Colors: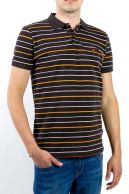 Shipping method:
Receive in store
Omniva PackStation - FREE
Courier - €3.50
Economic Shipping to Europe (7-14 days) EUR 2.99
Express Shipping to Europe (3-4 days) EUR 14.99
Standard Shipping to USA 9.99 EUR

Wrangler is an everyday jean brand. Ever since the beginning of jeans, Wrangler made sure that their clothing was made for the people's needs. Their clothing is still made by proven, durable materials and will never lose it's iconic status – because it's Wrangler.
Indigood is Wrangler's sustainable jean coloring method – ECO friendly, saving on electricity and not using any water.
| | |
| --- | --- |
| Product available only in web shop | 0 |
| DOMINA X JEANS, Rīga, Ieriķu 3, Tel.: +371 25749143 | 1 |
| VALLETA X JEANS, Valmiera, Rīgas 4, Tel.: +371 25749076 | 1 |
| RĪGA PLAZA X JEANS, Rīga, Mūkusalas 71, Tel.: +371 25749533 | 1 |
| MOLS X JEANS, Rīga, Krasta 46, Tel.: +371 25749139 | 0 |
| AKROPOLE ŠAUĻI X JEANS, Siauliai, Aido g. 8, Tel.:+370 63525400 | 1 |
| ALFA X JEANS, Rīga, Brīvības 372, Tel.: +371 20159965 | 1 |
With this product also buy